AN UNTOLD STORY REVEALED
United Markets opened its doors in San Anselmo to enthusiastic shoppers in July 1959. The property on which the store sits has a long, untold history with an interesting cast of characters. The story begins in 1880 when Marin pioneer William Patten (also appears as Patton) was deeded 4.75 acres fronting what was then called the San Rafael/Olema Road just outside the San Rafael town limits. Adjoining to the west was the Tompkins property, later developed as Sequoia Park, and to the north and east were the hills and open grasslands of the Forbes estate.
William Patten was born April 3, 1830 in Vermont and came to California as a forty-niner. It isn't known if he headed for the gold fields or if he had success as a miner there, but in 1853 he came to Marin and found work as a wood chopper in Mill Valley. He also traveled north to lumber camps near Duncan's Mill. While working at the Nicasio Saw Mill in 1868, he lost the ends of two fingers in an accident after which he became a laborer in San Rafael.
Patten was acquainted with many of the prominent men in early San Rafael. He was described as a "man of sterling qualities, honest, faithful and not afraid of hard work," and through his labors he was able to acquire property in San Rafael as well as the property in San Anselmo. "Uncle Bill," as he was affectionately called, was a reclusive bachelor and a lover of literature and roses. He served on many occasions as a trial juror, on the grand jury and as an election official.
In the 1900 census, Patten, age 70, is enumerated in his cottage in San Anselmo still working as a day laborer. One can surmise that there was a beautiful rose garden surrounding the cottage. Listed in the census as renters in an adjacent dwelling on the property are William and Annie Stephenson. A photograph  taken about this time shows one or more dwellings, several outbuildings, a water tank and an orchard.
William Patten died July 2, 1909 leaving a large estate of $30,000 (roughly $750,000 today). Among the beneficiaries of his will were the San Francisco Orphan Asylum and San Rafael Public Library. His residence and property in San Anselmo were left to Annie W. Stephenson who had cared for him in his declining years. A sizeable residue was left to Dr. S. M. Augustine and Justice F. M. Angelotti of San Rafael for "their own sole, absolute use and benefit in equal shares."  These two men used the money for the public good. In 1911, they helped purchase a lot on 5th Avenue behind the B Street School for a playground which was a great improvement for the school. A sign placed there read "Patten Playground." For many years the San Rafael Library reported the interest earned on its Patten legacy, and a 30 inch globe was purchased with the funds in 1917.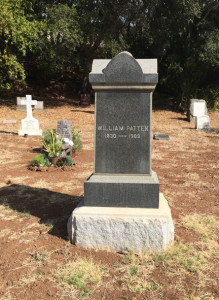 William Patten is buried at Mt. Tamalpais Cemetery.
The story continues with the Stephenson Years.