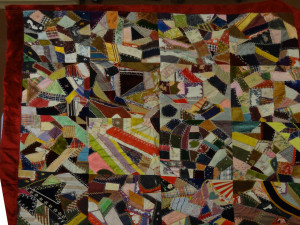 In September 2014, I was contacted by Dr. Blaire O. Gagnon, Assistant Professor in the Department of Textiles, Fashion Merchandising and Design at University of Rhode Island (URI), regarding a quilt which she recently had evaluated for inclusion in URI's Historic Textile and Costume Collection.
The quilt had a connection to San Anselmo in that it appeared to have been created as a commemorative quilt for Andrew C. Strachan upon his graduation from San Francisco Theological Seminary in 1900. Donna Sciola, Andrew Strachan's granddaughter and the owner of the quilt, believed the quilt to be from Canada because that is where her extended family is from, Andrew was married in Manitoba in 1902, and it is from Canada that the quilt made its way to Rhode Island. However, my research into the names embroidered onto the blocks of the crazy quilt revealed that the quilters were not from Canada or San Anselmo but from the town of Dixon in the Sacramento Valley where Andrew Strachan completed his student training. Most of the women quilters had deep roots in the community of Dixon and were either original pioneers themselves or daughters born into pioneer families. Their stories are typical of the many families that made the journey west to California in its early days.
To learn more about Andrew Strachan and his family, the quilt and the women of Dixon who made it, and the quilt's journey to Rhode Island visit Reverend Andrew C. Strachan April 1900 Signature Crazy Quilt WIKI.
Judy Coy
December 2015