Sugarfoot, the beloved cast-iron deer, has graced the San Anselmo Town Hall lawn since he was donated to the town in 1963 by Daisy Dondero. Generations of San Anselmo's children have climbed on him and grabbed his antlers for a pretend ride in the woods.
Sugarfoot has quietly gazed upon the activities of the plaza and San Anselmo Avenue. He watched the waters rise to his shoulders and sweep by leaving him coated in mud in the two disastrous floods of 1982 and 2005.
He has watched the seasons come and ago from various locations of the lawn. During the winter holidays he often finds himself draped in garlands and ribbons and he even has had his nose painted as a stand-in for Rudolph the Red-nosed Reindeer. But Sugarfoot, named by young Daisy Dondero in the early 1900s, has seen much, much more.
In 1928, Daisy's father, Joseph Dondero, told a San Anselmo Herald reporter that the deer was more than 100 years old and that he was originally owned by Commodore T. H. Allen. There are no marks on Sugarfoot to give a clue to his country of origin, foundry or date of casting. While his true age is unknown, research has shown that he was indeed owned by Commodore Theodore H. Allen.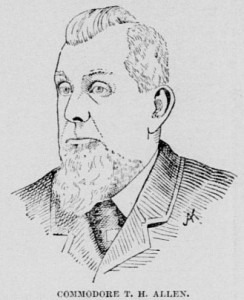 Allen was born in 1817 in Bridgeport, CT, the son of a ship's captain. At age 16, he went to sea, became an expert navigator, and then mastered many ships. When word of the California Gold Rush reached the East, Allen was one of 42 men who bought the new brig Sarah McFarland and sailed for California from New York in January 1849. The ship carried provisions, mining utensils and assay equipment.
Captain Allen brought the ship into San Francisco Bay on August 1, 1849, and immediately saw an opportunity that was to make him a wealthy man. Without deep water wharves, ships in the harbor had to be unloaded while anchored off shore. Allen built the first lighter boat on the bay and started a pioneer stevedore business; for many years he had a monopoly on the business.
In 1873, Allen purchased a home on Greenwich Street, between Mason and Powell. The Presentation Convent and School on Powell, established in 1855, was his closest neighbor.
It was big rambling house with spacious grounds, one of the largest and best in the city. It was richly furnished with fine fabrics, elegant cabinetry, and a Steinway piano and rare works of art. There were lush lawns, shade trees, an orchard and flower gardens. And here stood Sugarfoot. Cast-iron animals were a common feature of Victorian gardens and fine old mansions in San Francisco often had a menagerie of animals gracing their lawns. Perhaps Sugarfoot was not alone in his garden.
From his place in the garden, Sugarfoot could hear the voices of the schoolgirls on the playground of the Presentation Convent School, and he saw the comings and goings of San Francisco's most prominent shipowners, ships' captains and pilots, and merchants. Commodore Allen was a jovial man with a wide circle of friends. He was a founding member of the Pacific Yacht Club and the Society of California Pioneers. He married four times.
In 1883, Allen auctioned off his belongings, sold the property and moved to lodgings in a hotel. The Dondero family became the new owner of Allen's property, including Sugarfoot.
Giovanni Battista (G.B. or John) Dondero and his wife, Catherine, emigrated from Italy some time in the late 1850s. They came to San Francisco around 1860. G.B. Dondero worked variously as a vegetable peddler, grocer and wine dealer. He did well, investing in property in San Francisco's North Beach area, eventually acquiring most of the block bounded by Powell, Greenwich, Mason and Lombard Streets. By 1870, Dondero's real estate holdings were valued at $25,000, a sizeable amount for the time, and by 1900, he was considered one of the wealthiest capitalist in North Beach even though he never became fluent in English.
For a number of years the Donderos rented out rooms or flats in the Allen home and life was relatively peaceful for Sugarfoot. With many children and grandchildren in the Dondero's extended family all living in the same one block area, one can imagine that Sugarfoot was a popular attraction in the garden.
But things changed in 1895 when Dondero and a partner opened the pleasure resort, the New Vienna Gardens, on the property. They added wings and galleries to the original Allen home, more than doubling it in size. And what Sugarfoot could see and hear from his well-maintained spot in the garden! The New Vienna Gardens offered "Pleasure! Comfort! Mirth!" in its advertisements, with parlors with pianos, large concert and dance halls and the choicest brands of liquor, wine and cigars. To top it all off, there were concerts every evening and the establishment was open all night.

These were lively times in the Italian neighborhood of North Beach. The San Francisco police eventually closed down the New Vienna Gardens around 1900.
Dondero next leased the Allen home and property to a far different kind of enterprise. In 1902, the gospel settlement, the People's Place, opened with the aim of providing "physical, social, intellectual and spiritual uplifting for all." The People's Place offered a free clinic and dispensary, reading room, sewing and singing schools, and musical programs every Saturday night. Instead of liquor and wine, refreshments consisted of milk and gingerbread! With Sunday school and boys' and girls' clubs, Sugarfoot was sure to have had many young admirers.
At 5:12 a.m. on the morning of April 18, 1906 the ground beneath Sugarfoot began to shake with a tremor that continued for 40 seconds with increasing intensity and a loud rumbling noise. The ground seemed to undulate under him and his neighbors, shaken out of bed, streamed from their homes. The first of many aftershocks came 13 minutes later. And soon Sugarfoot's nostrils were filled with the smell of smoke.
During the remainder of the day and the following, Sugarfoot saw the Italian neighborhood evacuated; refugees trudged past his garden, up Greenwich to Telegraph Hill to go down the Filbert steps in the hopes of catching a boat to the East Bay or Marin. Sugarfoot continued to hear the roar of the conflagration, crashing of walls, and dynamite as fires rampaged through the city.
On Friday morning, the third day, a strong west wind came up which pushed the fire east from Van Ness and Green and by evening most all was lost in North Beach. When the Dondero family returned to the block where their homes once stood, the entire area was reduced to a tangled mass of bent metal, charred bricks and ashes. Only the shell of the walls of the Presentation Convent stood. But in the midst of this, the Donderos found a cast-iron deer and the family's safe. Sugarfoot had survived!
In 1905, the City of San Francisco attempted to buy a block in North Beach for a playground but was unable to settle on the precise block. After the earthquake and fire new opportunities arose. The City was able to negotiate with G. B. Dondero and other owners in the Lombard, Greenwich, Powell, Mason block and purchased it for a public playground.
The Donderos built a new home nearby on Lombard and presumably took Sugarfoot with them. When G.B. Dondero died in 1911, his eldest son, Joseph, inherited Sugarfoot. Joseph and his wife, Mary, moved to San Anselmo in 1914 with Sugarfoot and the three youngest of their eight children. Sugarfoot stood in Joseph and Mary Dondero's garden at 1659 San Anselmo Avenue for 45 years, well-loved and admired by Dondero grandchildren and neighborhood children, until 1959 when the property was sold. Daisy Dondero and her brother Anthony decided to donate the deer to the Town of San Anselmo, and Daisy appeared at the Town Council meeting on October 8, 1963 to make the presentation.
Sugarfoot was cleaned up, a broken antler was replaced and he was placed outside the council chambers next to the old fire department. When the town hall complex was remodeled in 1978, Sugarfoot was placed next to the entrance to the police department and there he stayed until 2002. The years, the 1906 earthquake and fire, and winter rains had all taken their toll and Sugarfoot was in need of repair. The San Anselmo Parks Department and a team of volunteers undertook the repair and restoration, sandblasting rust from inside, applying paint, and creating a new set of "kid safe" antlers.
Sugarfoot was returned to the Town Hall lawn in December 2004, this time placed in a more realistic setting in a small grove of trees. Everyday he is enthusiastically greeted by his adoring young fans. What an amazing life our Sugarfoot has had!