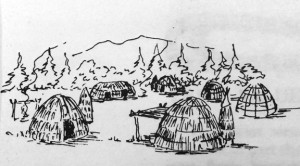 Since the days when the Coast Miwok Indians roamed the oak-studded hills and fished the fresh waters of San Anselmo Creek, the climate, the beauty and the serenity of San Anselmo have appealed to all who have passed this way. Indian artifacts have been discovered near the Hub, hinting that it was probably a center of activity, a crossroads, for them as it is for us.
By the mid-1800s the Mexican government had granted to the Sais family, the Canada de Herrera (roughly from the Hub westward toward Fairfax and Sleepy Hollow). Most of what we now know as the Seminary area and downtown San Anselmo was part of Juan Bautista Cooper's grant, Punta de Quintin de Corte Madera, La Laguna y Canada de San Anselmo, which was later purchased by James Ross whose descendants still live in the area.
The sights, sounds, and smells of San Anselmo were primarily pastoral until 1874 when the North Pacific Coast Railroad added to its line a spur track from San Anselmo to San Rafael. In 1875 the railroad completed a line from Sausalito to Tomales via San Anselmo. For a few years the town was referred to on railroad maps as Junction, but in the 1880s, taking its name from Cooper's original land grant, the name San Anselmo came into use. Railroad officials, anxious to see towns and passengers along its line, encouraged some feverish real estate activity, but it wasn't until San Francisco Theological Seminary was built in 1892 that the town began to grow. The castle-like buildings, Montgomery and Scott Halls, stood like sentinels on what was then a barren knoll, looking down on the summer folk who camped along the creek.
After the San Francisco earthquake and fire in 1906 many of these summer residents built permanent homes, planted trees along the hot dusty streets and began to think of incorporation. Lively debates ensued between those who would incorporate (and keep the town dry) and those who preferred the status quo (including Richard Hotaling, owner of Sleepy Hollow Ranch, whose family was in the whiskey business). Incorporate they did by a vote of 83 to 79 in 1907. Such civic necessities as a volunteer fire department, town hall and chamber of commerce were developed soon after.
The next influx of growth came with the opening of the Golden Gate Bridge in 1937. Now, with a population of approximately 12,000, San Anselmo remains essentially a family town with a gentle pace and friendly ambiance.
See also the more in-depth Timeline of San Anselmo History and a Chronological History of San Anselmo.