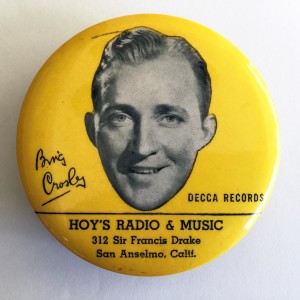 This record duster/cleaner, with a photograph of Bing Crosby, is an advertising piece for Decca Records and Hoy's Radio & Music located at 312 Sir Francis Drake. It was manufactured in the 1940s by the Philadelphia Badge Company. It is 3-1/2 inches in diameter (palm-size) with a soft fabric bottom and celluloid top.
Hoy's opened in San Anselmo in May 1945 when Rolph Winter sold his music shop business on Sir Francis Drake to Thelma and Ralph Hoy. Hoy's sold records, sheet music and musical instruments. Radio and phonograph repair services were offered, with TV repair added later.
The store was completely remodeled with a modern streamlined glass front, new display racks, listening booths and large neon sign after a fire on Christmas morning 1951. The store relocated to 550 San Anselmo Avenue in 1954.