In 1925, Gabriel Franchini opened the Home Market in the building next door to the bank in an Italianate structure that he and Leon Galatoire built at a cost of $50,000. Featuring state-of-the-art delivery trucks and refrigeration, Home Market was the first supermarket in San Anselmo: Everything was under one roof, meat to produce.
Other notable buildings rose in the '20s, among them two houses for the Seminary-still in use today-designed by newspaper magnate William Randolph Hearst's favorite architect, Julia Morgan. In 1928 the Seminary also built a redwood gymnasium on Bouick Field, which would find new life decades later as a home for the arts. Two new schools also opened: Saint Anselm's School in 1924 and Red Hill School (Isabel Cook) in 1928. Main School was remodeled 1922: The old wooden building was replaced by a larger red-brick structure.
Prosperity also inspired recreation. In 1924, the town paid $7,000 for seven acres to build Recreation Park (later Memorial Park). The Log Cabin there, built in 1933 by the American Legion and the Boy Scouts of America, became a center of community activity, as did the baseball field. San Anselmans loved baseball: Teams included the San Anselmo Wildcats and a respected, semi-professional "Merchants Baseball Team."
The financial boom times ended sharply in 1929, with crash of the Stock Market and the onset of the Great Depression. The first victim in San Anselmo was a plan to build a large resort hotel in Sleepy Hollow.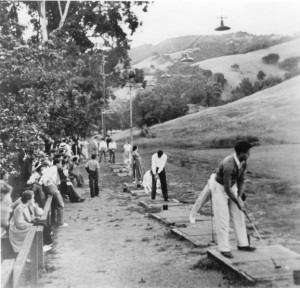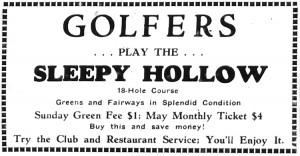 The Sleepy Hollow hotel would have included a mile-long lake and two golf courses. One of the courses was built, the Sleepy Hollow Golf and Country Club, and opened in 1937. Said to be the second-longest course in the nation, it closed after only four years due to cash and legal problems, development pressures, and diversion of water to Hamilton Air Force Base. World War II had begun.
Closure of the golf course did not deter interest in developing Sleepy Hollow. Over the years, the pretty valley had passed through several owners and lessees, but it had remained largely devoted to cattle and dairy farming since the early 1800s. Peter Austin, one of the first property owners in Sleepy Hollow after the Sais family, had dreamed of building a hotel there as early as 1878.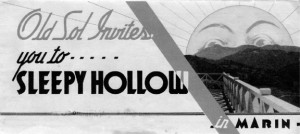 It was Lang Realty that brought Austin's expansion dream to life, though its emphasis was single-family living. Lang began the subdivision of Sleepy Hollow in the early 1930s, and opened a tract office at the corner of Deer Hollow and Butterfield roads during the 1940s, selling 141 one-acre residential lots.